The first step to doing dog agility competitions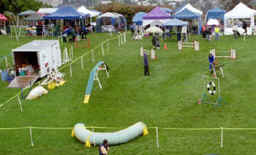 One step leads to another, as the saying goes. But sometimes it's that first step that is the hardest! Taking the leap to start doing agility competitions is no different. But I have found it to be true, that as soon as I take that first step in anything, I see the light that is needed for the next step. If you are nervous about going from the backyard to the ring, have no fear. What seems like a 'dark' tunnel will open up to increased clarity once you take that first step. Which is? Simply this… going to one! That's right, just visiting an agility trial is going to give you a huge boost of knowledge and confidence. It's hands down one of the best ways to start the process. Both you and your dog will start getting a 'feel' for the environment, and you'll pick up on a hundred little details ahead of time. Just pack a notebook (for jotting questions), your dog, and a chair. Then park yourself ringside next to someone who looks like they are one of the competitors (or a competitor's spouse). You'll be pleasantly surprised to find people very willing to teach you everything they know! I don't recommend registering to do a trial until you've sat and watched at least a few of them.

How do you find competitions in your area? I suggest going to www.agilityevents.net. They have a searchable database of events coming up in your area. Choose your state and the 'venues' desired (i.e. agility organizations that host the trials). Try all the venues and go to a variety of them if possible. If you have a mixed breed, however, you may want to rule out AKC trials, but you can still learn a lot from watching them. The organizations don't differ all that much from general rules and basic equipment used.
In future blogs, we'll talk more about the organizations. You can also visit this page to read more.